The safety and protection of our family and home is important to us all. At SNC we offer a fuse board replacement service.
Having an up to date fuse board (consumer unit) is a major part of ensuring your electrics keep working safely and meet the latest regulations.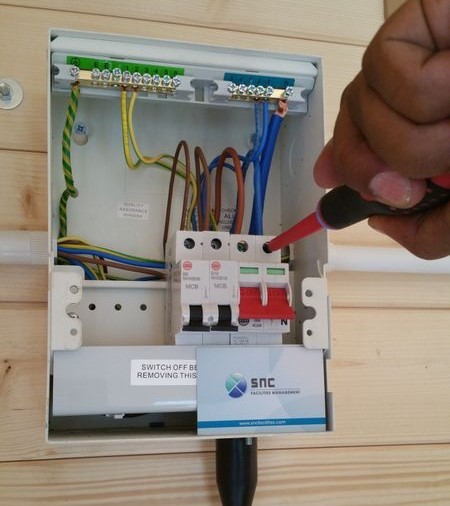 Tell-tale signs of a faulty fuse board
Since your fuse board is the heart of your system, it's a good idea to get it checked out by a qualified electrician as soon as you notice any of these symptoms.
Fuses tripping
Flickering lights
Smell of burning wires
If you notice any of these symptoms, then it's likely that you have something wrong with your fuse board.
Why you may need a fuse board replacement
A fuse board allows you to keep all your electric appliances running without interruption. It also prevents the risk of electrical fires. However a fuse box can sometimes have problems.
Here are the main reasons why you might need to replace a fuse board in your home:
Stop fuses tripping: If your fuses regularly trip they will probably need resetting
Improve your electrics: If you have flickering lights when you turn on your lights, this is most likely due to a loose connection in your fuse board. This is a very common problem and it's something that you should have checked out.
Meet the latest regulations: In some cases, it will be necessary to replace a fuse board because the current one no longer meets safety regulations
Your fuse board is damaged: If a fuse board is damaged, it will almost certainly need replacing.
A fuse board can sometimes fail to work, even though the circuit is fine.
How our fuse board replacement works
Our fuse board installations are fully certified. We only use fully qualified electricians to fit your new fuse board.
We'll test all the electrical circuits in the house during the installation to make sure your appliances are meeting the latest regulations which will confirm your house is electrically safe.